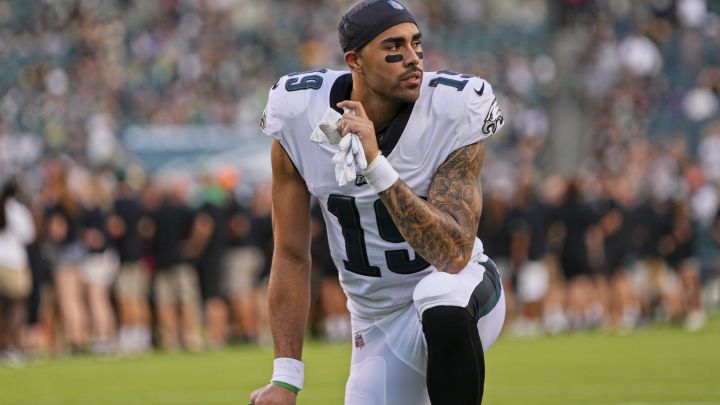 JJ Arcega-Whiteside's career in the NFL has not been easy for three years, so Spanish has to reinvent itself this summer. Chosen by the Philadelphia Eagles in the second round of the 2019 Draft, the man from Zaragoza has not lived up to expectations (16 receptions and two touchdowns in 40 games), which is why he has taken a drastic change in his career: He will no longer play the role of receiver, but instead becomes a tight end.
As reported by Jeff McLane, Arcega-Whiteside has decided to make this change, something not very common in the NFL, with the clear objective of continuing to make a hole in the league. In this last campaign, his production as a wide receiver had not been ideal, but, nevertheless, he did do his job as a blocker, something he will do much more of as a tight end. His physical conditions (1.88 meters and 102 kilos) allow this transition to a position that requires greater corpulence, and where the threat when it comes to receiving balls will be especially in the end zone, where size prevails and not speed. In addition, he will continue to participate in the special teams.
The Philadelphia Eagles preseason starts on April 25, the day Arcega-Whiteside will begin to carry out their new duties. This summer is especially important for the only Spaniard in the NFL (Alejandro Villanueva retired a few weeks ago), who as a catcher had a hard time getting into the final squad, which only 53 players access. As a tight end, he will have to fight the likes of Dallas Goedert, Richard Rodgers, Noah Togiai, Jack Stoll and Tyree Jackson. If he manages to stand out above several of them, Arcega-Whiteside will earn the job to start his fourth year in the NFLthis time from a totally different position.